Oracle FCC provides out-of-the-box Ownership management. If your organization has entities/subsidiaries not consolidating 100% into the parent company then you have FCC ownership management to your rescue. In this blog we will see how easy it is to setup ownership percentage in FCC. FCC out-of-the-box Consolidation rule will ensure that you have accurate numbers consolidated to its parent.
Enable Ownership Management
Firstly, lets enable Ownership management feature in FCC.
Navigator -> Configuration -> Enable Feature. Click on "Enable".
Once the Ownership management feature is enabled, you will see a page where you can input percentage for each entity on Scenario-Year-period basis. From Oracle FCC home, click on Application > Consolidation
Enter Ownership Percentages
You can start entering Ownership percentages for each entity. Based on the Ownership % value, Control Consolidation Method, Consolidation% & Minority Interest % are auto populated.
Select Appropriate POV , Update the Ownership % and Control and Click on "Save Changes".
Remember if you want to override the Consolidation Method, Consolidation % and Minority Interest % , you are allowed to do so. Override values will be shown in Orange.
View Indirect Ownership Percentages at Parent/Legal Entity
A Parent entity can own entities indirectly, If we take example of about above Entity Ownership structure. Entity USA Owns 60% of California, It therefore has indirect ownership of entities under California.
To view the indirect ownership percentages in FCC, from the Consolidation page select Parent/Legal Entity view as below.
This view shows all the base level entities directly or indirectly owned by Parent Entity. Here you can see indirect % ownership to the Parent Entity. For example USA Entity owns 42% of Los Angeles Entity.
If needed you can override Control & Consolidation method for Indirectly owned entities.
Manage Consolidation Methods
FCC gives you provision to customize the Ownership Range as per your need. To do so, from the consolidation page , click on Action and select "Manage Consolidation Methods".
You can modify the Ownership % Range or even add new Consolidation Method here.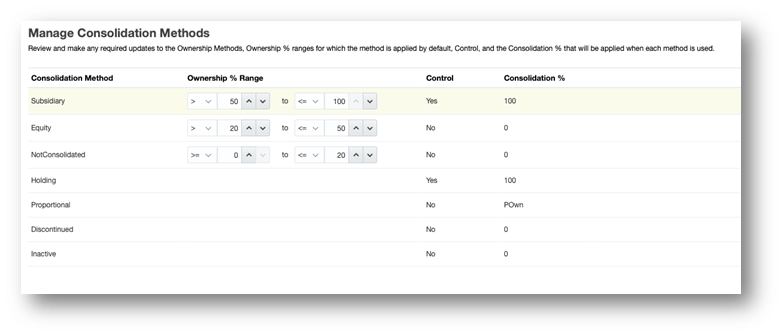 Ownership Example
Lets look at the example below.
We have input values in the cell marked green and ran Consolidation for the selected POV.
Based on the ownership setup in the above section, Ogden Consolidation % is 0, that's you see contribution of this entity to its parent entity is 0. USA entity shows $300, which excludes consolidation from Ogden entity.